In the Beginning…
Wildly successful at introducing a line of high quality audiotape recorders, Ampex Corporation had been working on and off getting much wider-bandwidth, broadcast video signal onto magnetic tape.
After trying audio recorder-like "run the tape across the record/play head" designs like RCA, Bing Crosby Enterprises, the BBC and several others were attempting, Ampex engineers tried running the head across the tape.
Early trials with three heads on a spinning disc, then further thinking and experimentation lead to mounting  four heads on a disc, rotating them vertically across the two-inch tape, as the tape moved horizontally past the spinning head.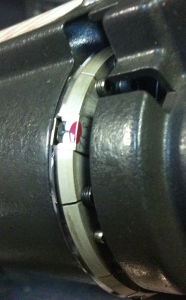 The story of the development of "transverse" scanning is outlined by Fred Pfost, one of the six engineers working on the project.
By March of 1955, results from this approach and improved signal systems were good enough for the team to tell executives they could have a working system in a year.
By April of 1956, there were two prototypes ready for a public debut:
The Mark III was an engineering model, in a functional housing.
The Mark IV was the "presentation" model, housed in a sleek console with its two racks of tube-type circuitry nearby.
The Mark IV was shipped to Chicago for a surprise showing to CBS network and affiliated station personnel.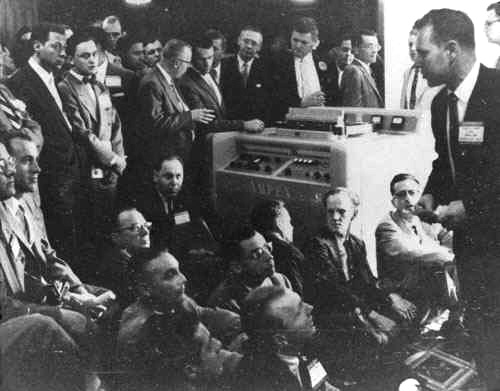 Fred Pfost was one of the Ampex Engineers sent with the machine to set up and operate it.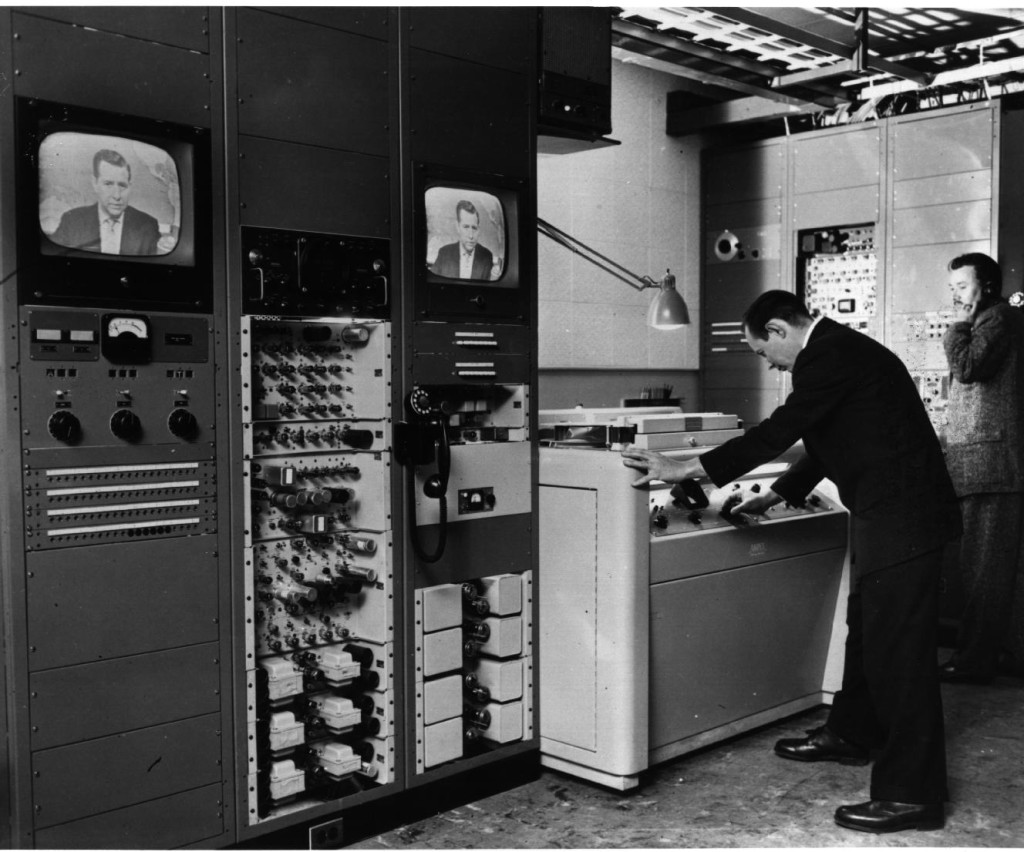 CBS was the first on-air user of the machine, to tape-delay the evening CBS News broadcast with Douglas Edwards on Nov. 30, 1956.The historic recording and playback happened inside CBS Television City in Hollywood, which figures into some significant Quad tape restorations.
Click here to see more about CBS's early use of videotape.
RCA owned NBC had ordered three of the Ampex machines. Two went to NBC, Burbank.  One was sent to RCA Labs in Camden, New Jersey, where RCA engineers designed a method of recording and playing color, an important aspect of RCA's drive to sell color sets.
RCA's demonstration of the "colorized" Ampex to Ampex engineers and executives led to a patent cross-licensing deal, which enabled RCA to use Ampex's technology and make its own video recorders.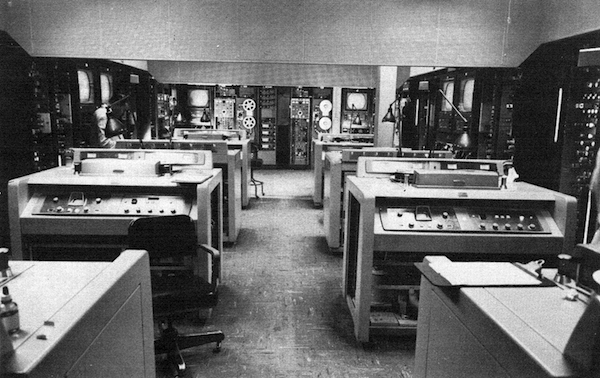 NBC's Videotape Central debuted on Tuesday, April 28, 1958 inside NBC's "Color City" at 3000 West Alameda (at Olive Ave.) in Burbank.  The $1.5 Million facility sported eight RCA modified Ampex VR-1000 recorders and one RCA TRT-1C color recorder.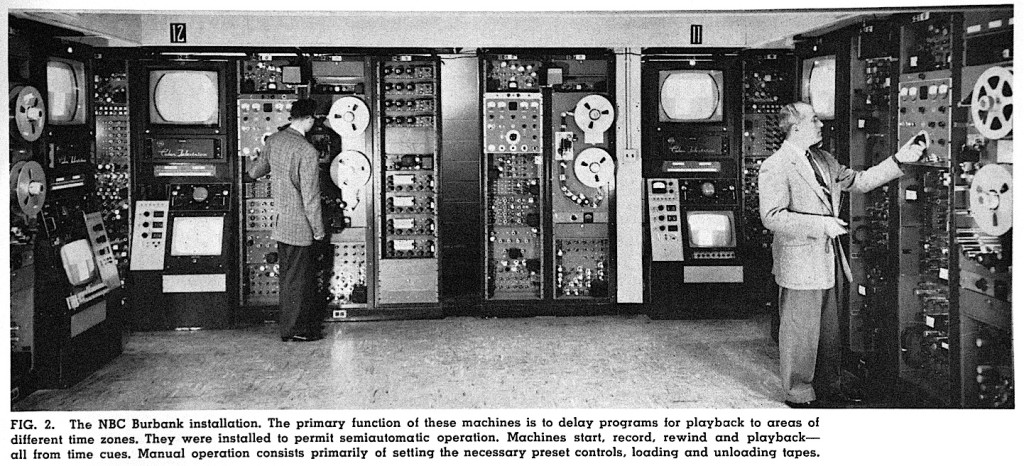 By 1959, there were more RCA machines in place, and NBC Burbank was pioneering the art of videotape editing, making it a "go-to" location for television production.
Click here to see more about the RCA Television Tape installations in Burbank, New York and WBTV.
Another Quad Tape milestone: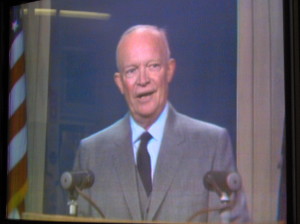 May 22, 1958, President Eisenhower became the first president to be recorded in color on videotape.  The president helped dedicate NBC's brand-new Washington, D.C. facilities housing NBC network and WRC-TV television studios.
A recording given by RCA to the Library of Congress and a perhaps never played Quad tape of this event was located at the Eisenhower Library in Kansas, and is the earliest known color recording discovered to date.
Learn more about the recovery and restoration, here:
http://www.quadvideotapegroup.com/restoring-the-earliest-known-color-quad-tape-the-dedication-of-wrc-tvnbc-washington-dc/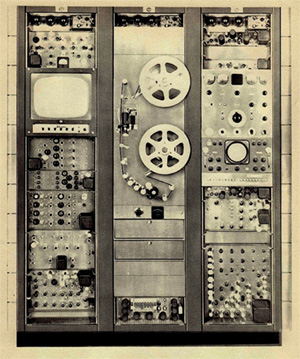 Over the years, the equipment shrank from the six racks used by the RCA TRT-1s (three of the racks shown here)…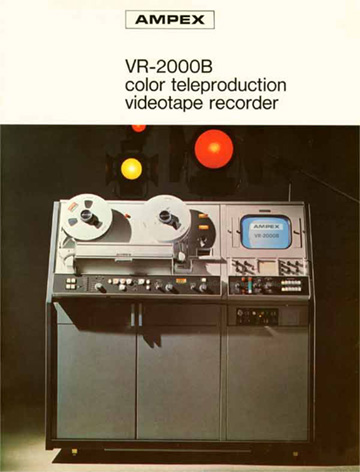 … to three-rack wide self contained systems, with rollers for ease of maintenance or mobility.
The newer recorders offered High Band recording, electronic editing and a host of electronic circuits to record and play the highest quality pictures possible.
Machines like these second generation recorders, and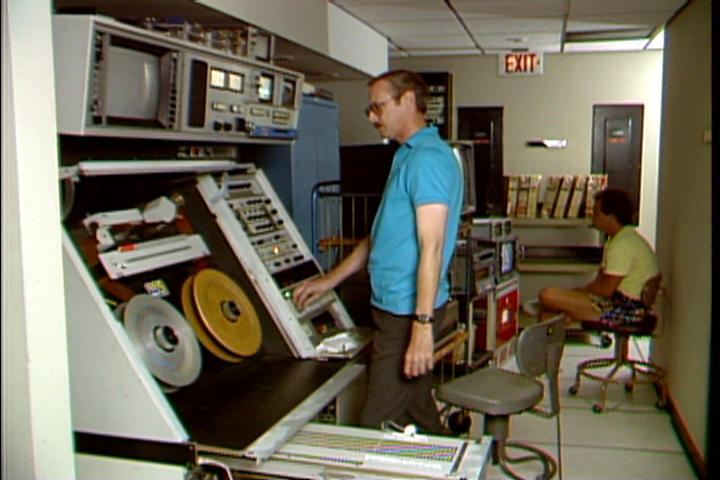 the third-generation units—like this AVR-1 that was used in 1987-88 to recover the earliest color Quad tapes from 1958 and 1959— continue to be used on a daily basis for transfer of Quad video recordings to other media.